V2018 Automated Spinstand and New Servo-8 System
for High-TPI HGA Volume Testing
Automatic HGA Loading for improved UPH with 10 sec head swap time
Better uniformity and accuracy of servo writing for high-TPI HGA testing
At least 10x times faster servo writing[1]
High-bandwidth servo significantly reduces spindle warm-up time
New servo tolerates damaged servo sectors[2]
Up to 34 um usable radial positioning range[3]
Automatic closed loop adjustment software
RRO compensation for both piezo-servo and micro-actuator loops up to the loop bandwidth
Patented[4] HGA collet for stable and precise HGA position on the HGA tooling without mechanical damage to the HGA
Up to 30 HGAs per tray, up to three trays per spinstand[5]
Optical alignment of HGA flex pads for reliable electrical contact
Optional HGA serial number recognition camera
For media testing Guzik Technical Enterprises recommends new PSC cartridge upgrade for V2002 Spinstand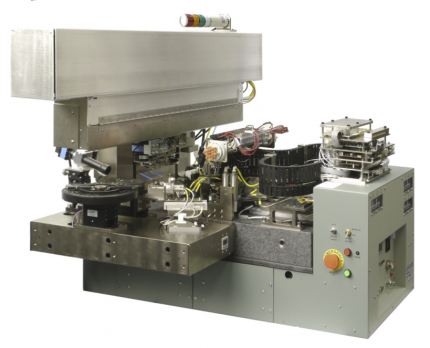 New V2018 Spinstand[6] addresses the limitations of V2002 Spinstand in high-TPI Head Gimbal Assembly (HGA) testing.  The low bandwidth of V2002 glass scale based closed loop positioning system restricts the uniformity of servo writing, making it almost impossible to write servo with high-TPI HGAs.
New V2018 HGA tooling incorporates precision glass scale encoder and piezo actuator located close to the HGA mounting block.  This design delivers up to 2.7 kHz close loop bandwidth, critical for accurate servo writing.  It improves the servo writing uniformity at least an order of magnitude and allows high-TPI testing.
Reconfiguration of V2018 Spinstand to the new test product takes less than 30 min: mechanical alignments of the HGA tooling are performed outside of the spinstand using Optical Measuring Machine (OMM).  After installation final alignment is performed by interactive software using the built-in video camera.
V2018 Spinstand can automatically load HGAs from the HGA tray to HGA tooling and unload them back.  HGA loading automation allows performing batch testing of HGAs without operator involvement.  This improves UPH and effectively prevents many human errors that could be introduced in manual installation of the HGA.  Optical alignment of HGA flex pads assures reliable electrical contact for all types of pads configurations: multi-row and narrow width.
V2018 Spinstand increases the system testing throughput at least two times due to much faster radial positioning and reduced overhead for HGA loading/unloading.
________________
[1] With comparable servo quality on V2002 system with PAC cartridge
[2] Can tolerate up to 10% of invalid servo sectors per revolution
[3] Three piezo options are available: 18 mm, 40 mm, and 60 mm piezo for optimal combination of mechanical bandwidth and positioning range
[4] US patent 9,443,542
[5] Three trays design can be delivered by request
[6] US patents 9,773,515; 9,443,542; 9,842,981; 9,627,602; US patent pending
Back to Top