Automotive mmWave Radar Test Solution
with ADP7104, M8195A, WR28CCU, WR28CCD, WR12CCU, WR12CCD, N5183B
Generate and analyze Frequency Modulated Continuous Wave (FMCW) radar 24 GHz, 77 GHz and 79 GHz waveforms
Pre-correct waveforms for overall channel response
Supports many topologies for transmitter / receiver testing (IQ, IF, RF, microwave, millimeter-wave)
Independent reference to debug and validate hardware performance
2 channel RF modulation bandwidths up to 9 GHz (4 channel 6.5 GHz) with min. resolution : 709.520 mV
Frequency bands between DC and 10 GHz with base instruments
Frequency bands between 22.5-40 GHz and 60 – 90 GHz with extended millimeter-wave configurations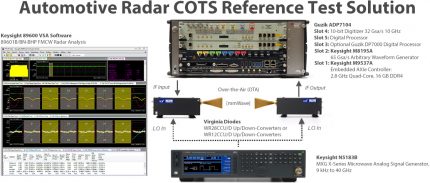 Automotive radar applications are part of Advanced Driver Assistance Systems (ADAS) for both manned and autonomous vehicles.
This Automotive mmWave Radar Test Solution allows to generate and analyze multichannel Frequency Modulated Continuous Wave (FMCW) radar waveforms for complete component, subsystem, and system performance at baseband, IF, and millimeter-wave (mmWave) 24 GHz, 77 GHz and 79 GHz bands.
This Compact Reference Solution combines COTS modular hardware and software from Guzik, Keysight Technologies and Virginia Diodes, which provides a flexible testbed for FMCW radar waveform generation and analysis. The test setup allows to de-embed external cables, attenuators or amplifiers in front of the digitizer with Guzik patented FPGA-based interleaved ADC amplitude and phase response equalizer.
Software provides the flexibility to generate and analyze FMCW waveforms with a wide range of different attributes.
Modular hardware provides the flexibility to support baseband, IF, and millimeter-wave test planes.
Frequencies up to 10 GHz can be supported with the base test equipment configuration for testing with a wide range of IF's and the 22.5-40 GHz industrial, scientific and medical (ISM), 5 GHz wide ultrawide band (UWB) band and 60-90 GHz shortrange radar (SRR),  long-range radar (LRR) band frequencies can be generated and analyzed with the Virginia Diodes compact up-converters and down-converters.
This Reference Solution can be used as an independent reference to help debug and validate hardware performance issues as they occur.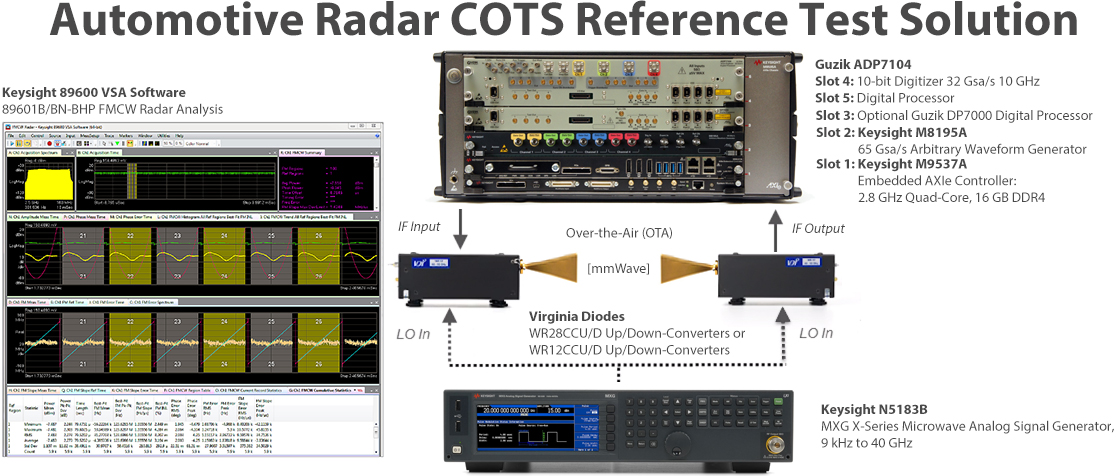 Signal creation software:
E8742A-002 FMCW Radar Generation Assistant – IQ Tools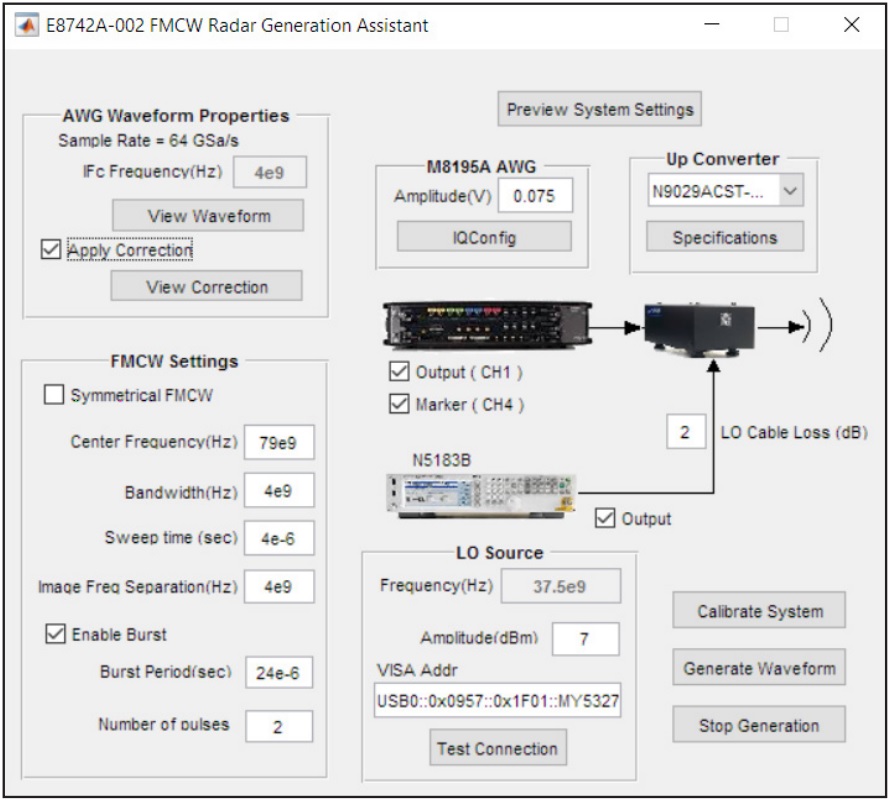 Keysight Signal Studio for Pulse Building N7620B
Keysight SystemVue Automotive Radar Library (W1908) to generate frequency-modulated continuous waveforms (FMCW) and scenarios
N7608C Signal Studio for Custom Modulation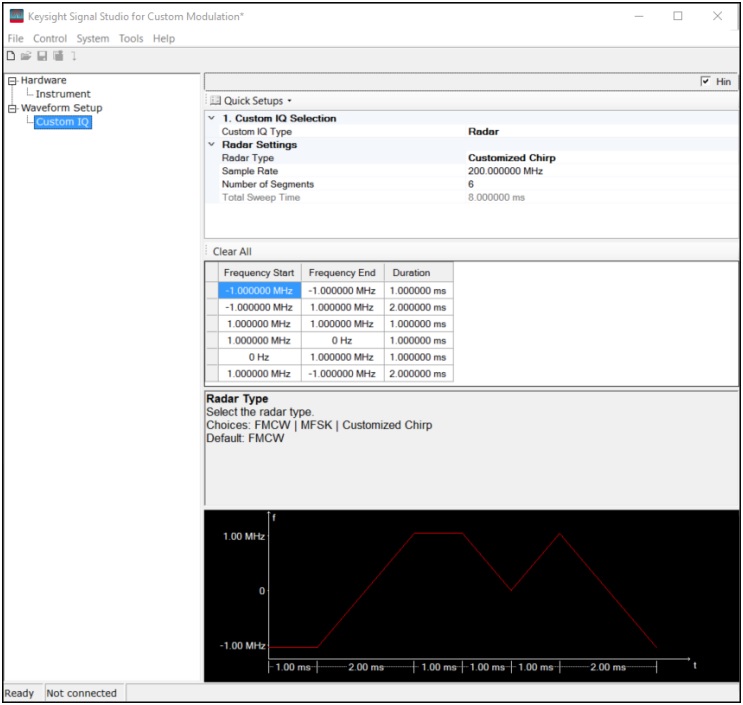 Custom IQ
Set parameters such as custom IQ constellation settings for BPSK, QPSK, 8PSK,OOK, 2/4/8 ASK, 16-4096QAM, 2/4/8/16 FSK, MSK, S-OQPSK, AM/FM/PM, FMCW, MFSK, Customized chirp, or user-defined constellations
Use customizable quick setups for DVB-S2X, APCO25, TETRA, NXDN, dPMR, DECT, DMR, ARIB, 802.15.4  BPSK, O-QPSK), 802.15.4g (Wi-SUN), ITU-T G.9959 and more
Set parameters such as symbol rate, payload data sequence (PN, custom, user file), data length, and shaping filter characteristics
Measurement applications and software:
Keysight 89600 VSA software to demodulate custom IQ and custom OFDM waveforms
E8742A-001 FMCW Radar Analysis Assistant (Easy U/I for downconverter set up and FMCW analysis (VSA utility)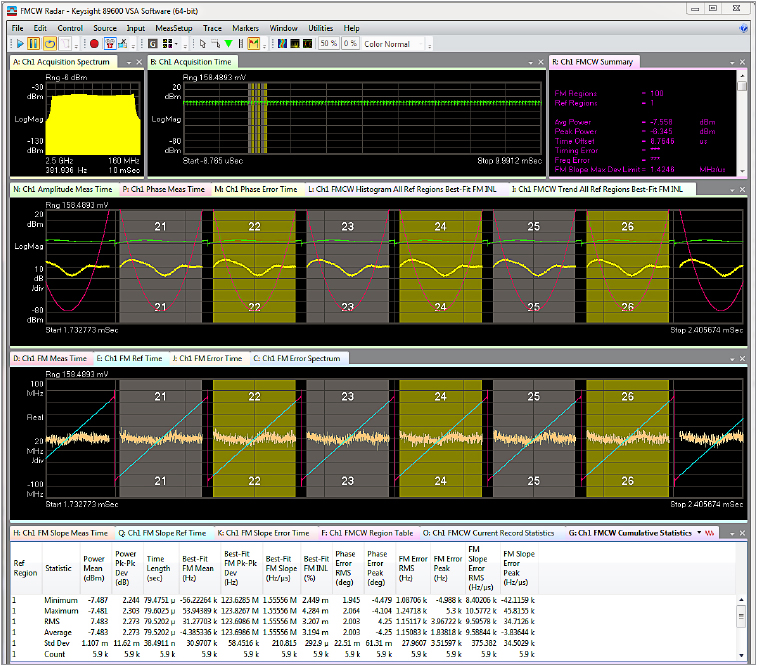 Spectrum and time domain results on multi-chirp FM signals, highlighting six selected FM regions (number 21 through 26) in synchronized time domain traces. The FMCW cumulative statistic table below provides accumulated results over all detected regions.
The Keysight 89600 VSA software is a comprehensive set of tools for signal demodulation, vector signal analysis and time domain analysis. Option BHP for frequency modulated continuous wave (FMCW) radar analysis helps R&D and design verification test engineers quickly and easily make automated modulation quality measurements on multi-chirp linear FM signals according the evolving requirements for radar sensor performance and detection techniques in automotive, aerospace and defense applications. The new 89601B-BHP FMCW option provides signal synchronization, quick access to multiple FMCW modulation domain result traces, metrics, statistics, histograms and trend lines. 89600 VSA software with Option BHP provides design engineers more insight into and confidence in product design and quality in a shorter test time and accelerates time to market.
1 Channel Configuration:
Back to Top