DSP, FPGA, Silicon
IP Technology used in Guzik products
The patented1 Guzik digital hardware FPGA-based equalization of multiple interleaved Analog to Digital Converters (ADCs) improves the signal fidelity and effective number of bits of multi Gigasampling ADCs.
Advanced Real-Time Digital Down-Conversion technology2 is used to extract a portion of the full digital spectrum captured by the interleaved ADCs. The Real-Time DDC block is implemented in the FPGA-s and can be tuned anywhere in the spectrum of the ADC. It provide filtering and decimation to reduce the original output data rate of the ADC. This method significantly reduces the amount of data saved to the digitizer on-board memory and when transferred to a PC. In return increasing measurement and analysis speeds.
________________
1 U.S. Patent 7,408,495
2 U.S. Patent 9,641,191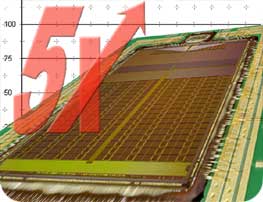 Guzik Technical Enterprises holds over 70 patents which form the basis for the various electronic, optic and mechanical innovations at the core of the products. In recent years, we have taken some of these core competencies and expanded our product offering outside of data storage to focus on electronic signal capture and analysis applications.
All the Intellectual Property is listed here.
The Technical Library includes whitepapers, which describe some of the technology in great detail and can be accessed here.
Please contact us, to find out how the IP could be integrated into a specific application, into custom integrated circuits (ASICs) or how they are used inside field-programmable gate arrays (FPGA-s) to improve the accuracy and accelerate performance of the acquisition processing of Guzik's products to provide up-to real-time analysis capabilities.
________________
Back to Top