Wide E-Band Signal Reference Test Solution
with ADP7104, M8195A, WR12CCU, WR12CCD, N5183B
Generate and analyze E-band (69 – 90 GHz) waveforms with up-to 10 GHz of occupied bandwidth
Pre-correct waveforms for overall channel response
Supports many topologies for transmitter / receiver testing (IQ, IF, RF, microwave, millimeter-wave)
Independent reference to debug and validate hardware performance
2 channel RF modulation bandwidths up to 10 GHz (4 channel 6.5 GHz)
Frequency bands between DC and 10 GHz with base instruments
Frequency bands between 60 – 90 GHz with extended millimeter-wave configurations
Over-the-Air (OTA) measurements using waveguide horn antennas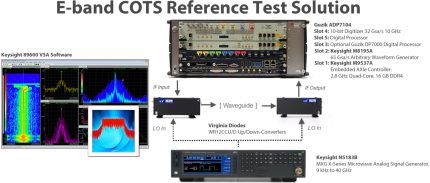 This compact E-band signal analysis reference solution combines commercial off-the-shelf (COTS) modular hardware and software from Guzik, Keysight Technologies and Virginia Diodes, which provides a flexible multichannel testbed for E-band waveform generation and analysis. The test setup allows to de-embed external cables, attenuators or amplifiers in front of the digitizer with Guzik patented FPGA-based interleaved ADC amplitude and phase response equalizer.
The setup also allows to use digital pre-distortion (DPD) techniques that allows for example power amplifiers (PAs) to tested at a more efficient operating point by modifying the input signal to account for the AM/AM and AM/PM conversion that occurs as the amplifier operates at peak signal levels. By measuring the AM/AM and AM/PM conversion of the amplifier, the inverse of these functions can be applied to the input waveforms to produce the ideal waveform at the amplifier output.
Software provides the flexibility to generate and analyze E-band waveforms.
Modular hardware provides the flexibility to support baseband, IF, and millimeter-wave test planes.
Frequencies up to 10 GHz can be supported with the base test equipment configuration for testing with a wide range of IF's and the 60-90 GHz E-Band frequencies can be generated and analyzed with the Virginia Diodes compact up-converters and down-converters.
This Reference Solution can be used as an independent reference to help debug and validate hardware performance issues as they occur.
Measurement applications and software:
Keysight 89600 VSA software
1 Channel Configuration:
Back to Top