DP7000 Digital Processor
with Real-Time Processing Architecture via Fiber Optics
Four Intel/Altera Arria™ 10 FPGAs (660/1150 GX) with up-to combined 13,504 multipliers and 6 TeraFlops of IEEE754-compliant floating-point DSP cores
128 GB (8 x 16 GB) SO-DIMM DDR4 2400 MHz onboard memory modules with up-to 1.2 Tbps of Aggregate Memory Bandwidth
Up-to 1.692 Tbps external connectivity through Samtec Firefly™ Optical Engines with  (60 Tx and 60 Rx @ 14.1 Gbps) of serial bandwidth using five 24-fiber Multi-fiber Push On MPO/MTP® front panel connectors
Up-to 32 Gbps optional AXIe backplane PCI Express® Gen3 (x4 8 GTps) connectivity with multi-channel DMA engine
IPMI-based system monitoring
The DP 7000 Digital Processor with 40/100G Ethernet or 169G Interlaken protocol compatible MPO/MTP® Optics, designed for evolving markets such as Real-Time Stream Processing for High-speed Data-acquisition (DAQ), High Performance Computing (HPC), Machine Learning, Data Center Infrastructure, AI Processing and Network applications. The board is 8U form factor, 322.25 mm x 280 mm x 6 HP  (L x W x H), single slot AXIe or AdvancedTCA® blade, ideal for multi-slot 19″ rack mount system integration. In AXIe form factor it provides up-to Gen3 PCIe® backplane connectivity.
Block Diagram: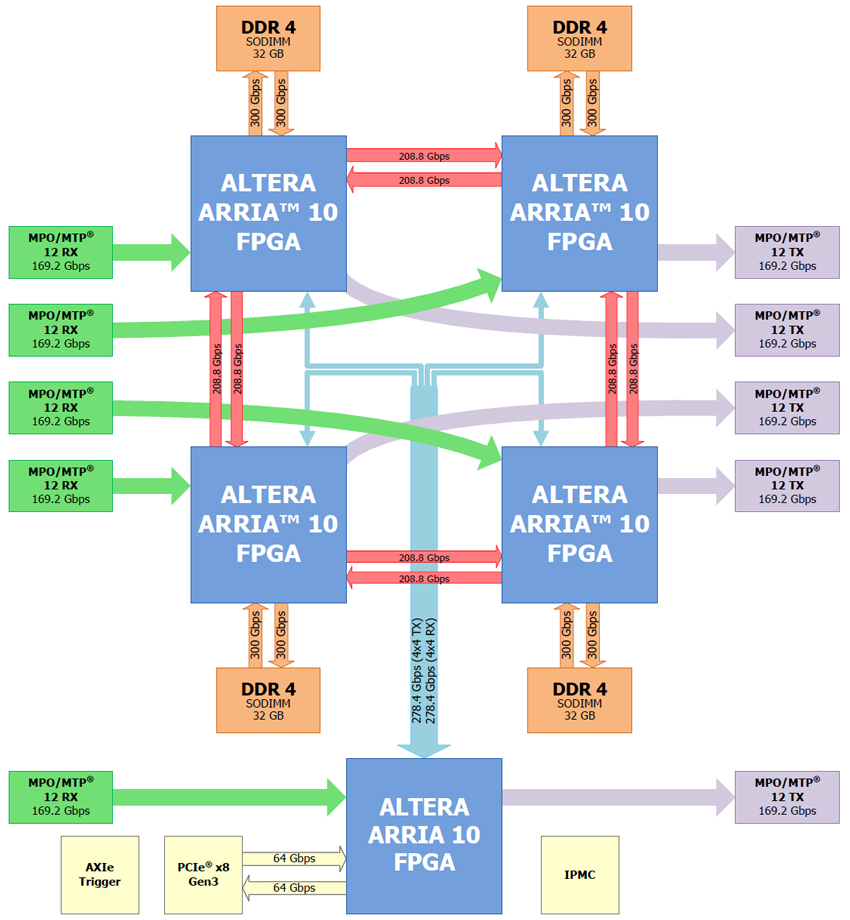 Board top view: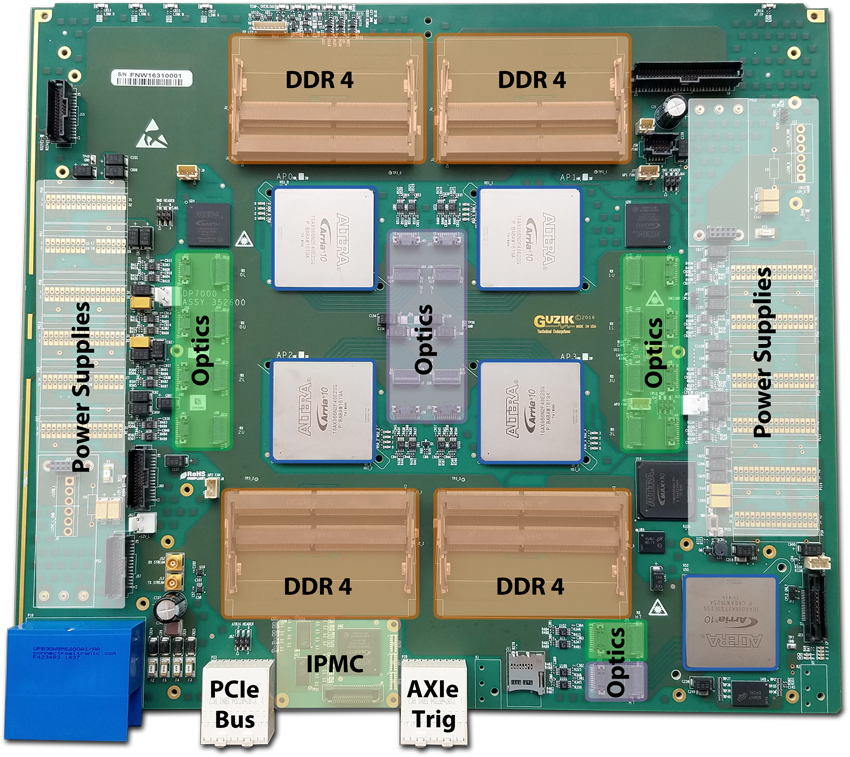 The DP 7000 introduces Real-Time Stream Processing Architecture via fiber optics interconnect technology. It allows to cascade many processors together to achieve higher-processing capabilities: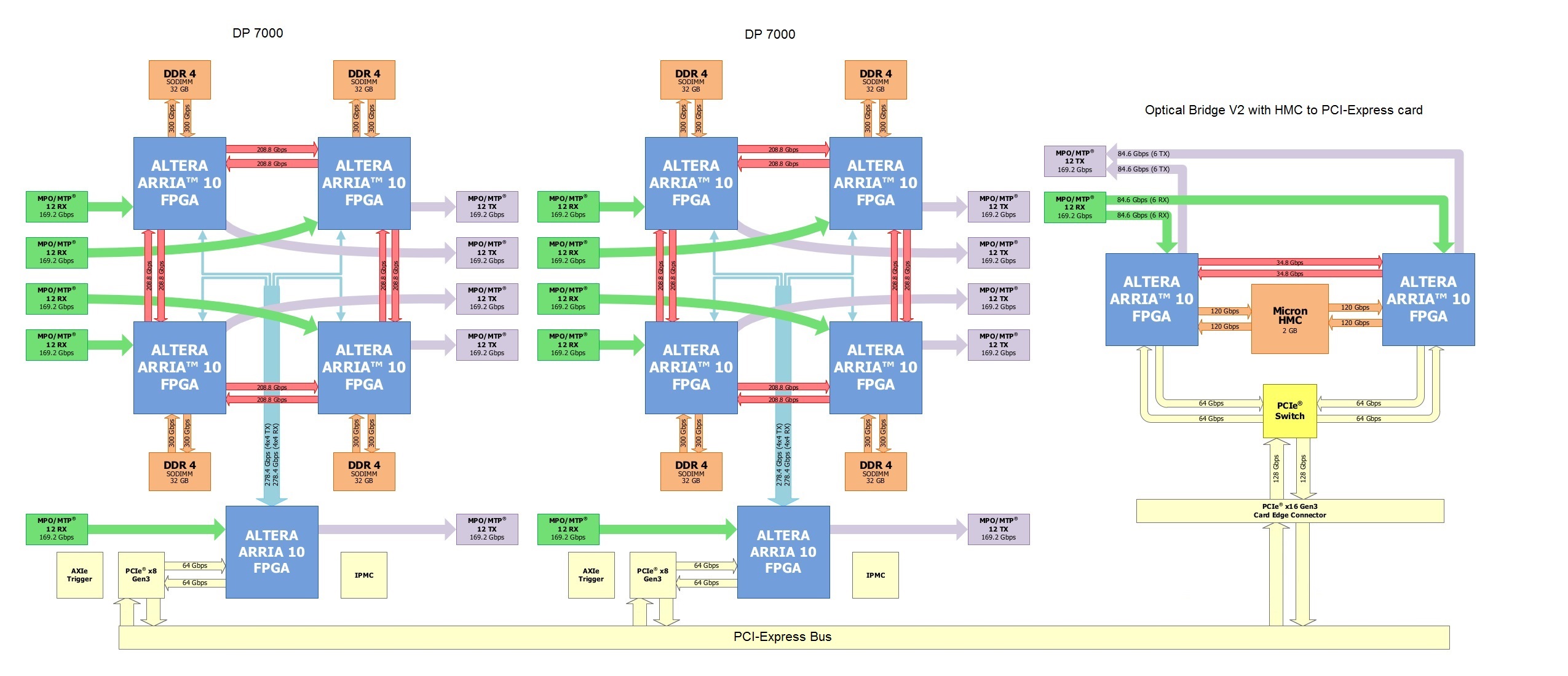 Combined with the Optical Bridge Interface Card the DP 7000 can be connected to external PC-s and RAID arrays via the fiber optics interconnect technology. A block diagram illustrating the connections and data throughput: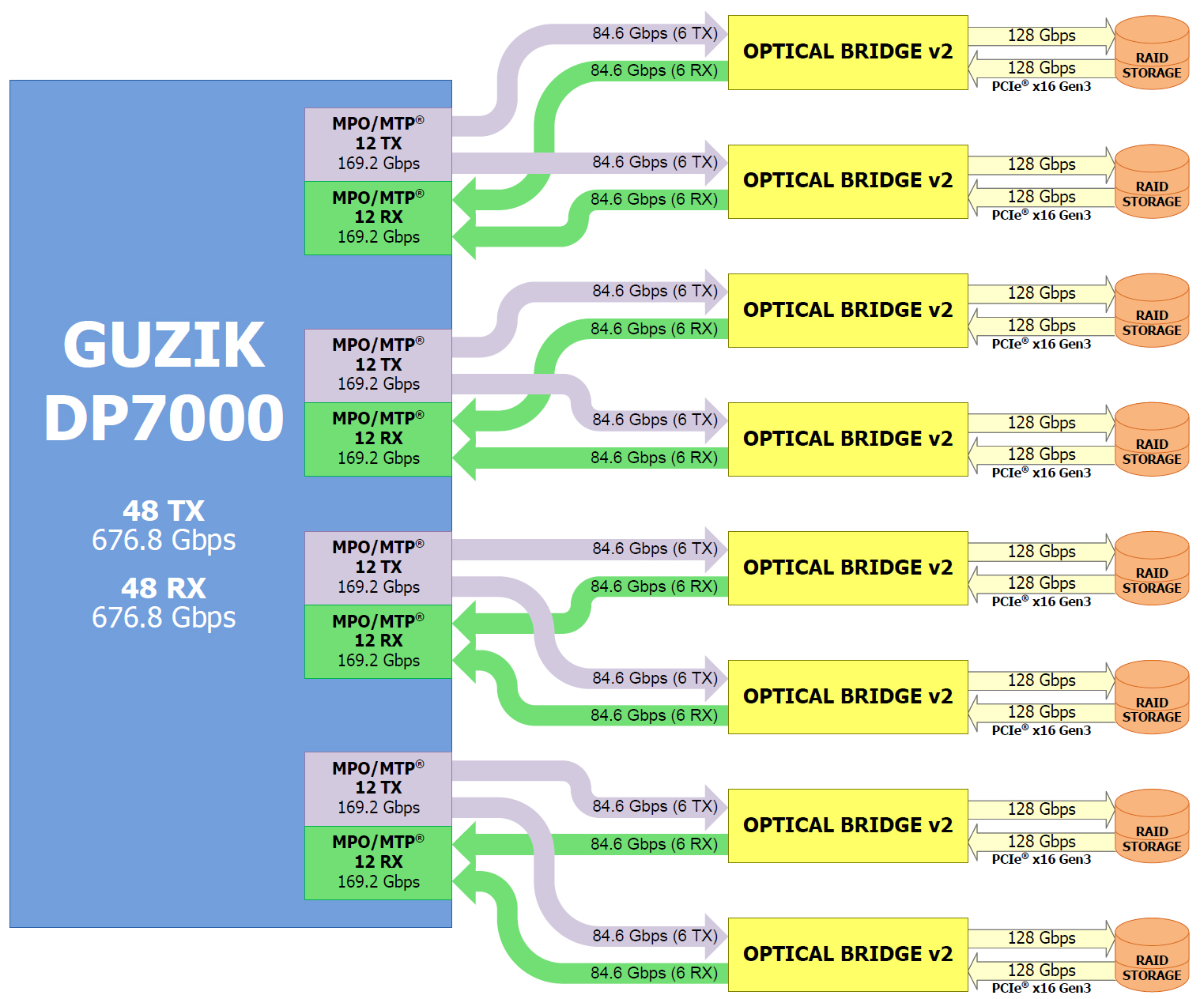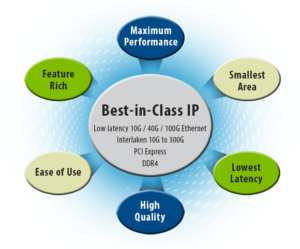 Guzik's DP 7000 Digital Processor ships with tailored Intel/Altera's best-in-class suite of IP cores, which deliver the highest performance, lowest latency, and smallest resource utilization in the FPGA industry. The best-in-class IP portfolio includes Ethernet, Interlaken, PCI Express, and DDR4 SDRAM Interface IP core. Altera splashed onto the scene with Interlaken and Ethernet cores, providing industry-leading lowest latency and resource utilization. PCI Express IP provides unmatched, bar-raising throughput and input/output operations per second (IOPS) performance.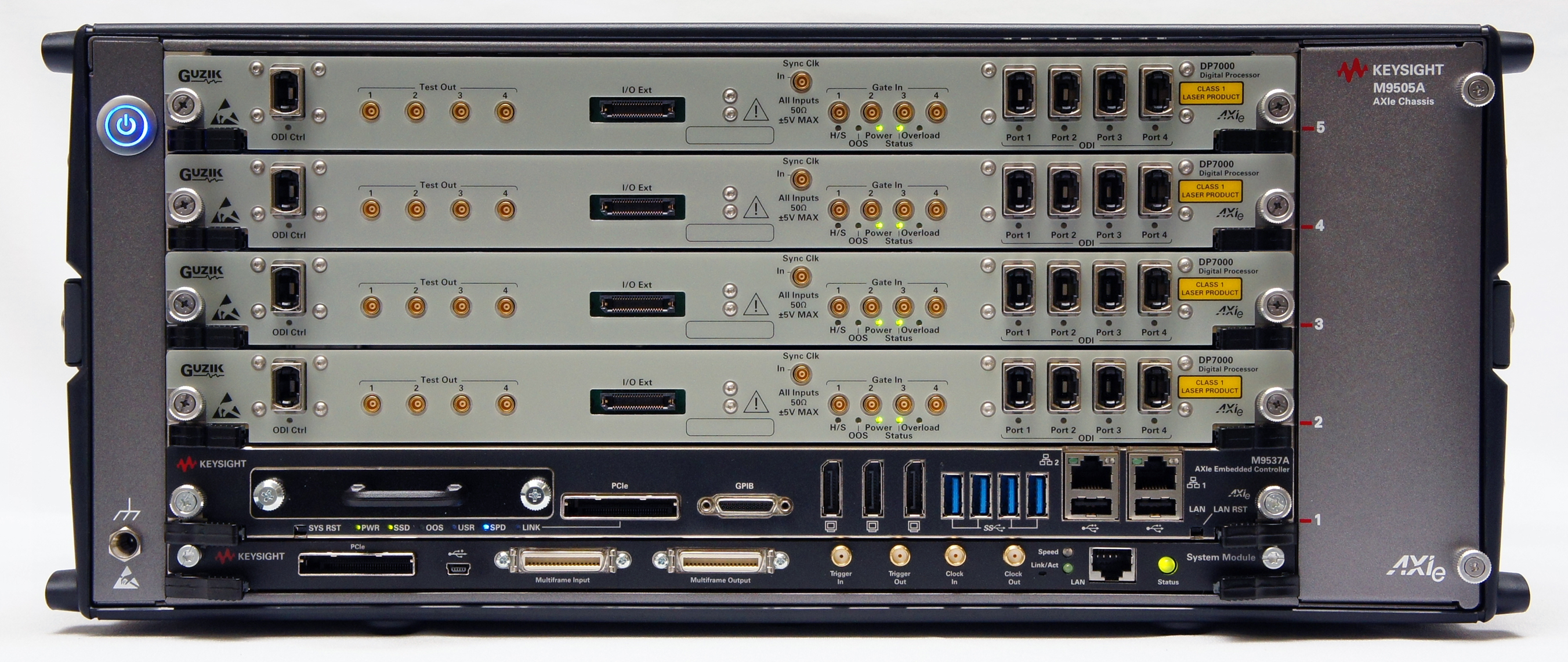 Four Guzik DP 7000 Digital Processor Modules, one Keysight M9537A AXIe High Performance Embedded Controller in a 4U Keysight M9505A AXIe 5-Slot Chassis
Credits:
Intel Arria 10 GX FPGA-s
The DP 7000 features five latest Intel 20 nm Arria 10® FPGA-s (Field Programmable Gate Arrays). Four of them are dedicated to processing, which are 2.5 X more powerful than previous generation devices used in Guzik devices with up-to 13,504 18 x 19 multipliers. The FPGA-s have the industry's only hard floating-point digital signal processing (DSP) blocks with speeds up to 1,500 giga floating-point operations per second (GFLOPS) each totalling 6 TFLOPS on-board. The fifth control FPGA is used to provide fast passive parallel (FPP) configuration of the processor FPGA-s.
Memory
128 GB (8x 16 GB) on-board SO-DIMM DDR4 2400 MHz memory modules with up-to 1.2 Tbps of Aggregate Memory Bandwidth
I/O Interfaces for External Connectivity
Each FPGA is connected to Optical Engines with 169 Gbps (12 Tx and 12 Rx fibers @ 14.1 Gbps) of serial bandwidth. The 24 Fibers Ferrule MPO/MTP® connectors on the front panel of the DP-7000 can be used to parallel or cascade multiple processor and connect to 100 Gigabit Ethernet (100GbE) or 100G Interlaken parallel optics protocol networks.
AXIe Backplane Interface
64 Gbps (x8 8 GTps) PCI-Express® Gen3 connectivity with multi-channel DMA engine
Management
IPMC Chipset Smart Fusion A2F MCU with Pigeon Point Systems firmware
Environmental
Form Factor: PICMG 3.0: 8U form factor, 280 mm x 322.5 mm, single slot AXIe-1 or AdvancedTCA (ATCA) blade
Power Consumption: 200W (max)
Regulatory*
| | |
| --- | --- |
| Operating Temperature Range | +5 C to +40 C |
| Non-Operating Temperature | -40 C to +70 C |
| Operating humidity | 5% to 80% relative humidity, non-condensing |
________________
*Designed and manufactured to meet the following requirements
FCC Class A
CE
IEC 60950
NEBS Level 3
Company will get certifications as required to meet specific customer requirements
Back to Top