Guzik MR-5 Read/Write Amplifier for GMR – Discontinued
2Gbit/sec Write Data Speed 1.5GHz Read Amplifier Bandwidth
The Guzik MR Amplifier Revision 5 is a next generation of the Guzik head amplifiers.  The main advantages of the Guzik MR Amplifier Revision 5 comparing to the Revision 4 are:
Fast rise/fall time of the write current (300psec instead of 800psec)
Programmable overshoot of the write current up to 100%
High bandwidth of the read amplifier (1.5GHz instead of 400MHz)
Small write to read recovery time (less than 200nsec comparing to 2msec)
Supports heater (single-ended or differential)
Microactuator compatible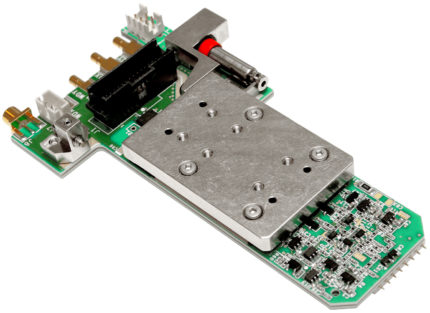 MR Amplifier Revision 5 Specifications:
Read Amplifier
Differential voltage sense amplifier
Bandwidth: 5GHz at –3dB
Flatness: ±0.5dB, 0.3 to 1GHz
Input noise: less than 0.6(typ.)
MR bias current: programmable –5 to +5mA* in 0.01 mA steps
Common mode rejection ratio: TBD
Non-linear distortions (1GHz, 1mV input level): less than 1%
Amplification: 30dB**
Write to read recovery time: less than 200nsec for both Bias On and Shut Down Bias modes***
Input impedance: at 1GHz TBD
Guzik MR5 head amplifier compatibility: with Universal Preamplifier UP8 only.
MR head impedance range: 20-100Ohm
Write Driver
Write data speed: up to 2Gbit/sec
Rise/fall time of write current: (10-90%) 300psec****
Programmable overshoot: up to 100% of write current in 1% steps
Output common mode voltage: less than ±0.1V
Write current: programmable 2 to 100mA (zero to peak) in 0.02mA steps*****
Read to write recovery time: less than 40nsec
Head voltage swing: more than 12V peak to peak
Output impedance: 100Ohm differential
________________
*    The MR bias current is limited in hardware to protect the GMR element
of magnetic head. Some customers are using the modification with
±20 mA MR bias current.
**   Required amplification is provided by UP8.
***   Measurements conditions: write current 50mA, head inductance 20nH,
           and write data 1Gbit/sec.
****  Measurement conditions: write current 50mA, 100% overshoot,
L=20nH in series with R=20 Ohms, current probe Tektronix CT-6.
***** Maximum overshoot value in 50-80mA write current range should be
calculated as I overshoot + I write = 100mA.
Heater Features:
Single-ended heater
Output heater voltage: from 0 V to 5 V
Maximum output current: 250 mA
Two types of heater voltage control
Internal: one setting for the read mode and the write mode by one DAC
External (MCX connector): input range from 0 V to 5 V, low-pass filter with 4 MHz cut-off frequency
Rise/fall time for external control: 100 nsec
Heater current and voltage measurements:
Current measurement accuracy ±1.0 mA
Voltage measurement accuracy ±5.0 mV
Differential heater
Output heater voltage: from 0 V to 7 V
Max output current: 70 mA
Internal voltage control only, separate controls – one DAC for the read mode and one DAC for the write mode
NLTS vs Data Rate
Write Current Waveform
Measurement Conditions
write current: 50mA
overshoot amplitude: 0 to 100%
head equivalent: 20nH + 20 ohms
Figure 1C: Write Current, Overshoot 100%

  Figure 2A: Write to Read Recovery (Bias On)
Figure 2B: Write to Read Recovery (Bias Shut Down)

Figure 2C: Read to Write recovery
Back to Top