PCIe x8 and x1 Bridge Card
works with GSA 6000 and RWA 4000 Series
2 output ports (x8 Gen2 and x1 Gen1)
5Gbps serial PCI-Express repeater/equalizer per lane
Programmable receiver equalization
Programmable transmitter de-emphasis & amplitude
Low power (100mW per Channel)
Electrical isolation at cable connector
No software drivers required
High frequency PCB material and routing allow support for up to 7m PCIe cables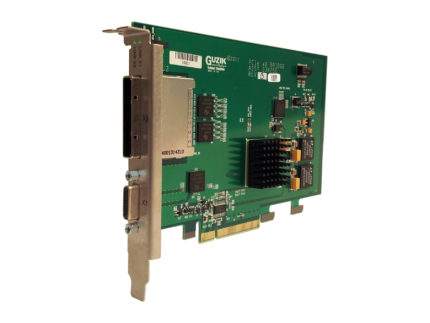 The Guzik PCI Express Host Interface Bridge Card was designed to expand the x8 PCI Express Gen 2 (PCIe) slot in a host PC to an AXIe or a Guzik GSA 6000 chassis via a x8 PCI Express Gen 2 and a x1 PCI Express Gen 1 high speed PCI-SIG specified data cables. This allows the end node to connect to the host bus at speeds up to 3.2GByte/sec user data rate. The Bridge Card installs in a x8 or x16 slot of a PCIe backplane or a PCIe motherboard, provides additional board-based retention and reinforced front panel.
ELECTRICAL/MECHANICAL SPECIFICATIONS
Form Factor: PCI Express standard height (shown)
External Interface: x1 and x8 PCI Express over cable
Front Panel Indicator: x1 and x8 LINK LEDs
OPERATING ENVIRONMENT*
Temperature Range: 0° to 50°C (32° to 122°F)
Relative Humidity: 10 to 90% non-condensing
*Designed to meet UL 60950, FCC Class B, CE safety and emissions
________________
*Specifications are subject to change without notice.
Back to Top