Universal Preamplifier 11 (UP11) – Discontinued
Write Channel with more than 8 Gbit/sec data speed
DC to 3.2 GHz read channel bandwidth
Works with Guzik High Data Rate Front End and HLM 2011 Headloader
Dynamic TFC Control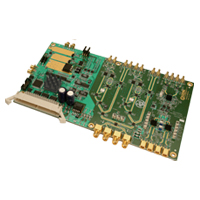 Universal Preamplifier 11 (UP11) is designed for new generation high data rate front end headamplifier and 2011 Headloader. With new Guzik RWA-4000 series UP11 allows to achieve the maximum write data rate 8 Gbit/sec. The bandwidth of read channel extends from DC to 3.2 GHz and allows for reading the perpendicular recording signals without losing DC components. UP11 is compatible with previous generation of Guzik RWA-2000 series.
Write Channel
More than 8 Gbit/sec write data speed
40 psec rise/fall time of write data (20-80%, typical)
Positive +2.5V CML write data outputs
TFC Control
Dual TFC Control Support
Maximum TFC Voltage: 5V
Fully programmable dynamic TFC Control using 12-bit D/A Converters
Voltage and Current Measurements using 12-bit A/D Converters
Read Channel
Bandwidth: DC to 3.2 GHz at –3 dB
Flatness:
±0.2 dB to 1 GHz,
±0.5 dB to 2 GHz
Output:
Differential.
Nominal output level: 250 mV (single ended, 50 Ohm termination).
Typical Non-Linear Distortion: better than 1% (250 mV output level), full bandwidth
Programmable GAIN: 30 dB in 0.5 dB Steps
Back to Top