Programmable Differentiators for RWA2000 Series – Discontinued
Perpendicular Recording on RWA2000 Series: PD2000 Programmable Differentiator with Integrated Filter
Differentiators with integrated programmable filters cover the frequency range from 20 to 2000 MHz
Five-pole Butterworth or Bessel filters to cut-off high frequency noise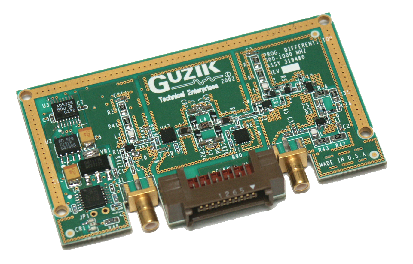 The programmable octave differentiators convert a perpendicular recording signal to the conventional PRML Type 4 read back signal. Regular PR4 processing can be used for PRML measurements after this conversion. Each differentiator board integrates a programmable filter suppressing the high frequency noise components from the differentiator output. The filter reduces error rate and increases SNR. The programmable five-pole Butterworth filter is a standard option.
The differentiator boards for the following octaves are currently in production: 20-50 MHz,
50-125 MHz, 125-250 MHz, 250-500 MHz, 500-1000 MHz, and 1000-2000 MHz. Up to four boards can be installed to the Main Filter Matrix located inside the Analog Box unit of the RWA 2000 Series. The differentiators on the matrix can be combined such a way that the matrix will cover up to four octaves within the frequency range from 20 to 2000 MHz. By customer request, Guzik Technical Enterprises can develop a special differentiator design based on the same technology.

Theoretical and Real Frequency Response (125–250 MHz and 1000–2000 MHz Differentiators)
Frequency Response of Four Programmable Differentiators (125–2000 MHz)
Programmable Differentiator Specifications:
Band pass frequency response deviation from the theoretical curve:
5 dB                             20–1000 MHz
1.0 dB (2.0 dB max)     1000–2000 MHz
Frequency resolution: continuous
Amplification at peak frequency:0±0.5 dB
Back to Top