Read-Write Analyzers-1601 – Obsolete
160 Mflux/s Read Write Analyzer
Maximum Data Frequency of 160 Mflux/s with Analog Channel bandwidth greater than 250 MHz.
Option: Digital Channel Analyzer (DCA) upgrade to test PRML channels.
User-definable random pattern length up to 32 Kbytes with hierarchical structure.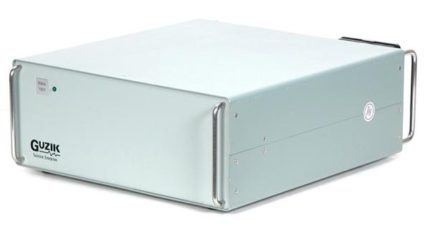 The Guzik Read Write Analyzer RWA-1601 is a measurement tool used for design and analysis of magnetic storage devices and components. It is designed to test heads, media, and HSA's (head stack assemblies) on spinstands, and drives/HDA's (head/disk assemblies). The RWA-1601 can perform a complete suite of parametric measurements including bit shift analysis, track average amplitude, resolution, pulse width, asymmetry, modulation, signal-to-noise, overwrite, and popcorn noise. Media defects such as missing/extra/super pulses, margin errors, and modulation errors can also be analyzed. The RWA-1601 can perform Phase Margin (Bit Shift) Analysis up to 160 Mflux/s using a programmable data separator and phase margin detector with accuracy better than 100 picoseconds and repeatability within 50 picoseconds. Using a software controlled bit mask, the bit shift of individual bits can be examined separately. Optionally, the RWA-1601 can be upgraded to a Digital Channel Analyzer (DCA) to perform PRML channel related tests. The Pattern Generator of the RWA-1601 allows the user to program any random pattern up to 32 Kbytes in length. Each transition of these patterns can be individually precompensated with 20 ps resolution. The RWA-1601 can perform a variety of measurements for testing the characteristics of MR-Heads, including separate analysis of positive and negative pulses and software programmable control of both positive and negative Read Bias currents.
Features:
Up to 160 Mflux/s data rates.
Programmable pattern generator with random pattern length up to 32 Kbytes and hierarchical pattern structure.
Programmable write data Precompensation of individual bits with 20 ps resolution.
Phase Margin (Bit Shift) analysis with accuracy better that 100 ps and repeatability within 50 ps.
Missing, Extra, and Super pulse detection.
Parametric measurements.
Frequency and Saturation response measurements.
Popcorn Noise measurement.
Bit Comparator analysis
Customer specified plug-in filter modules, programmable filters, and differentiators.
Programmable write, read-bias, and erase (positive and negative) currents.
Zoned-bit recording support.
Large variety of spinstand and drive interfaces with possibility for custom integration.
Programmable Peak Detector Time Constant and envelope tracking Thresholds.
1-7, 2-7, NRZ, MFM, and user-defined encoding schemes.
Drive test capabilities including Sector Servo protection, External Clock synchronization for write data, and digital read data analysis.
Analog Channel Technical Specifications:
Bandwidth: 0.1 to at least 250 MHz at -3 dB

Flatness: 0.1 to 100 MHz at ± 0.2 dB

Programmable Attenuator: 36 dB in 2 dB steps

Filters: 3 low pass (custom cutoff frequencies up to 160 MHz 8 overwrite from .5 to 20 MHz high/band pass filters available for measuring Popcorn

Write Current: Programmable 0 to 80 mA in 0.02 mA steps

MR Read Bias: Programmable -20 mA to 20 mA in 0.01 mA steps

Differentiators: Two plug-in positions for custom modules up to 160 Mflux/s. 5 modules shipped standard for data ranges from 5 to 160 Mflux/s
Programmable Filters:
SSI 32F8001:
cutoff frequency: 9-30 MHz in steps of 0.1 MHz
boost factor: 0 – 13 dB in steps of 0.1 dB
SSI 32F8011:
cutoff frequency: 5-15 MHz in steps of 0.1 MHz
boost factor: 0 – 9.2 dB in steps of 0.1 dB
SSI 32F8021:
cutoff frequency: 1.5-10 MHz in steps of 0.1MHz
boost factor: 0 – 11 dB in steps of 0.1 dB
Head Preamplifiers: 
SSI: 117, 501 510, 511, 512, 516, 521, 524, 528, 1200, 2010, 2015, 2020, 2024, 2030, 2100, 2300, 4610, 5121, 5122
VTC: VM312, VM313, VM367, VM5200, VM7104, VM7114, VM7150, VM7154, VM7200, VM7204, VM7230, VM7234
MR Preamplifiers: VM61006, SSI1550
Toshiba: TA8510
Fujitsu: MB 4114
NEC: PC2130, PC2132, PC2134
Sony: CXA 1454
EXAR: XR505, XR507
Many available for Magneto Resistive (MR) head testing. Additional Head Preamplifiers can be integrated on request. Head Adapters subject to IC availability.
Write Channel:
Frequency Synthesizer: Up to 320 MHz with 0.01% resolution
Pattern Generator: Any user specified data pattern up to a maximum of 32 KBytes of encoded data and hierarchical pattern structure.
Precompensation: Individual bit precompensation with resolution of 20 ps
Jitter: 20ps RMS
Digital Test:
Data Separator: 5 MFlux/s to 160 MFlux/s
Window Centering: 100 ps or 1% of window
Bit Shift Analyzer
Accuracy: better than 100 ps or 1% of window
Repeatability: better than 50 ps

Resolution: 20 ps

Jitter: 40 ps RMS
Parametric Measurement Accuracy:
TAA: ± 1.5%
Modulation: ± 2.0%
SNR: ± 0.5 dB
Crest factor: ± 2.0%
Overwrite: ± 0.3 dB
Pulse width: ± 2.0%
Surface Test:
Super pulse ± 2.0% of signal envelope
Missing pulse ± 2.0% of the HF envelope
Extra pulse ± 2.0% of the HF envelope
Margin errors
Modulation errors
Multiple Recording Zones
Options:
Pulse Shape Analyzer (Requires AB-961)
Equalizer
RWA-1601+ Upgrade available at factory
Physical Parameters:
RWA-1601
Size
21.6″ x 17.6″ x 7.3″
Weight
30 lb.
Power
100/120 vac ± 10%, 50/60 Hz, 2.5 amps approximately
220/240 vac ± 10%, 50/60 Hz, 1.3 amps approximately
ANALOG CHANNEL 961
| | |
| --- | --- |
| Size | 19.0″ x 17.6″ x 3.3″ |
| Weight | 10 lb. |
| Power | Supplied from RWA |
Back to Top