Read-Write Analyzers 1632 – Obsolete
320 Mbit/s PRML Channel Analyzer
160 Mbit/s Peak Detector Channel Analyzer
PR4, EPR4, E2PR4 Modes up to 320 Mbits/s
Peak Detector Mode up to 160 Mbits/s
Programmable Clock Recovery
320 Mflux/s Pattern Generator
12 Tap 12 Bit Equalizer (60 to 200 Mbits/s)
24 Tap 12 Bit Equalizer (80 to 320 Mbits/s)
Optional PRML Channel Chips Integration
Optional 2 Gsample/s ADC
New PRML Tests:
Margin-Type Prediction of Error Rate
Sample Value Distribution
Non-linear Transition Shift (NLTS)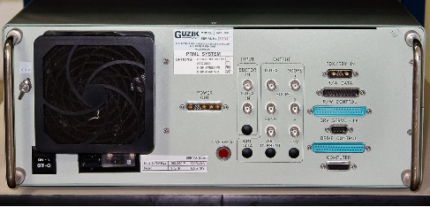 The GUZIK RWA-1632 Read/Write Analyzer provides comprehensive PRML (Partial Response Maximum Likelihood) and Peak Detector channel evaluation facilities. PRML channel testing is based on an advanced, proprietary, clock recovery system. Digitized analog signals are stored in memory and analyzed by a high speed multi-channel DSP.
In addition to the standard tests performed with the Peak Detector channels, several new tests have been added in order to evaluate and optimize the PRML channel. These tests include programmable and adaptive equalization with an Analog Equalizer, NLTS measurements, histograms of Sample Distribution Values to control the quality of Partial Response (PR) channel, direct measurement of Bit Error Rate, estimation of Error Rate, adaptive Precompensation, etc.
The RWA-1632 supports all established methods of NLTS measurement: spectral elimination (5th harmonic), pseudo-random sequence autocorrelation, and comparing linear superposition of pulses with a measured dibit.
Also, the RWA-1632 provides a margin-type estimation of error rate from the output of the PRML channel (SAM, Error Filters, Partial Histograms). Error rate estimations, with correlated and uncorrelated noise, are based on predictive performance of maximum likelihood detectors.
Different PRML channel chips can be integrated for testing using the replaceable plug-in Chip Adapter module.
The WITE (Windows Integrated Test Environment) software package allows the user to capture Sampled Value Distributions and Eye diagrams generated from the sampled data, along with all the standard Peak Detector and PRML channel tests.
Features:
320 Mbit/s data rate for PRML channel.
160 Mbit/s data rate for Peak Detector channel.
Programmable Clock Recovery.
Optional PRML chip integration by plug-in module.
12 tap 12 Bit Analog Equalizer.
Optional 24 tap 12 Bit Analog Equalizer.
Histogram of sample distributions.
Eye Diagram Plot.
Direct Bit Error Rate Measurement.
Non-Linear Transition Shift Measurements
5th Harmonic Measurement.
Pseudo-Random pattern autocorrelation .
Pulse Shape Best Fit.
Comparator error rate with Viterbi algorithm implemented in DSP.
Error Rate Estimation.
Digital scope mode.
Direct Access to Sampled Data in Memory.
Programmable Pattern Generator with random pattern length up to 32 Kbytes and hierarchical pattern structure.
Programmable write data Precompensation of individual bits with 20 ps resolution.
Analog Channel 961: 
Bandwidth: 0.1 to at least 250 MHz at -3 dB
Flatness: 0.1 to 100 MHz at ± 0.2 dB
Programmable Attenuator: 36 dB in 2 dB steps
Filters: 3 low pass (custom cutoff frequencies up to 160 MHz);
8 overwrite from .5 to 20 Mhz;
high/band pass filters available for measuring Popcorn
Write Current: Programmable 0 to 80mA in 0.02mA steps
MR Read Bias: Programmable -20 to 20mA in 0.01mA steps
Differentiators: Two plug-in positions for custom modules up to 160 Mflux/s. 5 modules shipped standard for data ranges from 5 to 160 Mflux/s
12 Tap Equalizer:
Bandwidth: 0.1 to at least 130 MHz at -3 dB
Flatness: 0.1 to 90 MHz at ± 0.2 dB
Control: 12 tap 12 bit resolution
24 Tap Equalizer:
Bandwidth: 0.1 to at least 160 MHz at -3 dB
Flatness: 0.1 to 100 MHz at ± 0.2 dB
Control: 24 tap 12 bit resolution
Clock Recovery:
PR4, EPR4, E2PR4 modes.
Variable target support.
Programmable loop bandwidth to .5 MHz
Jitter: 20 ps RMS (200 MHz)
1632 Write Channel:
Frequency Synthesizer: Up to 1GHz with 0.01% resolution
Pattern Generator: Data rates to 320 Mflux/s. Any user specified data pattern up to a maximum of 32 Kbytes of encoded data and hierarchical pattern structure.
Precompensation: Individual Bit Precompensation with resolution 20 ps
Data Rate:
PRML: 320 Mbits/s.
Error Rate Analyzer: Up to 240 Mbits/s, limited by channel chip used.
Peak Detector: 5 to 160 Mflux/s.
Bit Shift Analyzer:
Accuracy: better than 100 ps
Repeatability: better than 50 ps
Resolution: 20 ps
Jitter: 40 ps RMS
Window Centering: 100 ps
Digital Pulse Profile Mode:
Single shot mode 200 Msamples/s, 2 Gsamples/s with optional ADC. 8 bit ADC.
250 MHz analog bandwidth.
Up to 20 ps resolution.
Parametric Measurement Accuracy:
Pulse width: ± 2.0%(without Digital Pulse profile).
Options:
High-speed Digitizer 2 Gsample/s.
High-speed Pattern Generator 320 Mflux/s.
24 Tap 12 Bit Analog Equalizer.
Plug-in PRML Chip module.

Currently available modules:

SSI 4901
SSI 4910
SSI 4915

Additional PRML chips may be integrated upon request.
Physical Parameters:
RWA-1632
Size
21.6″ x 17.6″ x 7.3″
Weight
30 lb.
Power
100/120 vac ± 10%, 50/60 Hz, 4.0 amps approximately
220/240 vac ± 10%, 50/60 Hz, 2.0 amps approximately
Universal Input
ANALOG CHANNEL 961
| | |
| --- | --- |
| Size | 19.0″ x 17.6″ x 3.3″ |
| Weight | 10 lb. |
| Power | Supplied from RWA-1632 |
Back to Top