Read-Write Analyzer 2002 – Discontinued
2Gbit/sec Maximum Data Rate
1GHz Analog Bandwidth for All Parametric Measurements
Pattern Generator with 1psec Resolution of Bit Precompensation*
PRML Chip Integration to 2Gbit/sec
Servo Writing and Processing
________________
* Patent pending.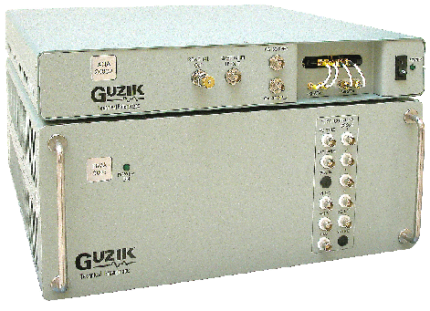 RWA 2002 Performance Specifications**:
Pattern Generator
Minimum bit cell: 500psec
Absolute position accuracy for any transition: 5psec (typ) 10psec (max)
Precompensation resolution for any transition: 1psec
Jitter at 2Gbit/sec
Repetitive Pattern: 2psec RMS (typcal).
Pattern Dependent Jitter, 5psec peak-to-peak (typical).
Frequency resolution: better then 1Hz
Frequency stability: ±2.5ppm up to 75°C, ±1ppm/year
Random pattern maximum length: up to 2Mbit
PRML Chip Integration
Data Rate: up to 2Gbit/sec (limited by available commercial PRML chips).
PRML chips: Cirrus Logic, Data Path, GEC Plessey, IBM, Lucent
Technology, Marvell, NEC, SSI, and new PRML chips integrated on request.
Channel Optimization
Wide range of PRML Tests
Analog Channel
Bandwidth: more than 1GHz at – 3dB
Flatness: ± 0.2dB up to 1GHz
Group delay: ±100psec up to 1GHz
Non-linear distortion: better than 1%
(entire bandwidth, nominal level)
Minimum pulse width (PW)
to be measured: 330psec
Parametric measurement accuracy
(entire bandwidth):
TAA: ±0.5dB***
Pulse width: 3% or 20psec (whichever is greater)***
SNR: ±0.5dB
Modulation: ± 2%***
Crest factor: ± 2%
Overwrite: ± 0.2dB
Physical Specifications
Size: 22.1″ x 17.6″ x 10.8″
Weight: 46 lbs
Power: 100-240 VAC (± 10%, 50/60 Hz, 3A)
________________
** Specifications are subject to change without notice.
*** Measurement conditions: sinewave signal without noise.
RWA 2002 Options:
Option
Performance
Spectrum Analyzer
Frequency domain tests to 960MHz
UP8 Preamplifier
2Gbit/sec write data speed
1.8GHz analog bandwidth
MR5 Read/Write Amplifier
2Gbit/sec write data speed
1.3GHz analog bandwidth
Programmable Octave Filters
1-2GHz, 0.5-1GHz, 0.25-0.5GHz,
and 0.125-0.25GHz
Guzik Servo for Guzik Spinstands
Servo writing up to 1,024 sectors
50 kHz servo sampling rate
Guzik Servo for Non-Guzik Spinstands
Servo writing up to 1,024 sectors
50 kHz sampling rate
Digital servo position output
Back to Top