Wideband Satellite Test Solution
with ADP7104, M8195A, WR28CCU, WR28CCD, N5183B
Generate and analyze wideband satellite communications (SATCOM) test waveforms
Pre-correct waveforms for overall channel response
Supports many topologies for transmitter / receiver testing (IQ, IF, RF, microwave, millimeter-wave)
Independent reference to debug and validate hardware performance
2 channel RF modulation bandwidths up to 9 GHz (4 channel 6.5 GHz)
Frequency bands between DC and 10 GHz with base instruments
Frequency bands between 22.5 – 40 GHz with extended millimeter-wave configurations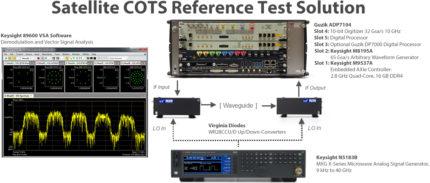 Generate and analyze a variety of wideband satellite test waveforms for complete component, subsystem, and system performance at baseband, IF, and millimeter-wave (mmWave).
This Compact Reference Solution combines COTS modular hardware and software from Guzik, Keysight Technologies and Virginia Diodes, which provides a flexible testbed for multichannel satellite test waveform generation and analysis. The test setup allows to de-embed external cables, attenuators or amplifiers in front of the digitizer with Guzik patented FPGA-based interleaved ADC amplitude and phase response equalizer.
Software provides the flexibility to generate and analyze satellite test waveforms with a wide range of different attributes. Signals at
different frequencies can be analyzed with different modulation formats simultaneously using the multi-measurement capability of the 89600 VSA Software.
Modular hardware provides the flexibility to support baseband, IF, and millimeter-wave test planes. This solution can be used without the stimulus (M8195A and WR28CCU) as a high dynamic range wideband analyzer for next generation satellite signals.
Frequencies up to 10 GHz can be supported with the base test equipment configuration for testing with a wide range of IF's and the 22.5 – 40 GHz Ka-Band frequencies can be generated and analyzed with the Virginia Diodes compact up-converters and down-converters.
This Reference Solution can be used as an independent reference to help debug and validate hardware performance issues as they occur.
 
Measurement applications and software:
Keysight 89600 VSA software to demodulate custom IQ and custom OFDM waveforms
1 Channel Configuration:
Back to Top