Sector Measurements Test Module
Most of WITE32 standard measurements with per-sector results
Capability to sweep/vary most of WITE32 system parameters
Integrated graphical result display
Capability to export all raw test results to a text file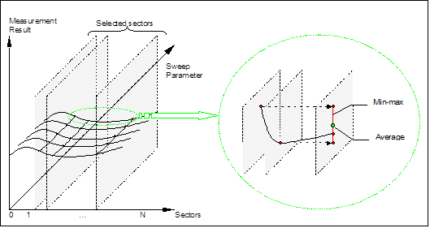 The Sector Measurements WITE32 test module with the Sector Sweep test varies one of the system parameters (such as off-track offset or clock), performs one or several WITE32 standard measurements listed the Table 1, and reports measurement results per sector.  Each measurement has dedicated preconditioning setup.  This feature combined with the ability to sweep almost any system parameter allows this test to execute the algorithms of most WITE32 profile-style tests, such as Track Profile, Saturation, MR Saturation, Frequency, Off-track Performance, and report results per sector.
The integrated graphical result display allows for convenient observation of one or several crosscuts of the three-dimensional result data, see Figure 1.
All raw results may be exported to a text file in CSV format for custom processing.
Figure 1: Illustration of data selection for graphical display: crosscut along sweep parameter axis
Measurement
Measurement Results
Required Hardware
Parametric
TAA Positive / Negative

PW Positive / Negative (for longitudinal recording)

Rise / Fall Time (for perpendicular recording)

Modulation Positive / Negative

Timing Asymmetry

Amplitude Asymmetry

WDM5044 or D5000
SNR
SNR (wideband signal-to-noise ratio)

Signal Amplitude or RMS

Noise RMS

WDM5044 or D5000
DFT
Signal Harmonic Amplitudes for specified frequencies
WDM5044
Overwrite
Overwrite

Original Signal Harmonic Amplitude

Residual Signal Harmonic Amplitude

WDM5044
PES
Position Error Signal (PES)

Invalid Sector Count

V2002 or DTR3000 spinstand
Spectral SNR
Spectral SNR

Signal Amplitude

Noise RMS

WDM5044
BER
Bit Error Rate

Byte Error Rate

Bit Error Count

Byte Error Count

Byte Count

CAI4K-compatible PRML chip adapter or D5000
Table 1: List of supported sector measurements
The Sector Measurements test is optional purchase software, which requires the following:-
Guzik RWA 2000 series or DTR3000 series.
Guzik WDM5044 Waveform Digitizer (recommended) or D5000 Signal Analyzer.
WITE32 Revision 4.20 or later.
Software license. Please contact sales@guzik.com to obtain a quotation for the license.
Back to Top