Spinstand 312MP – Obsolete
Micro Positioning system delivers 1 µInch positioning repeatability.
Linear Simulation of Rotary Skew configurable from -7 to +22 degrees.
Available factory upgrade from standard S-312 to S-312MP.
Builds on recognized Guzik S-312 reliability, durability, installed base and industry experience.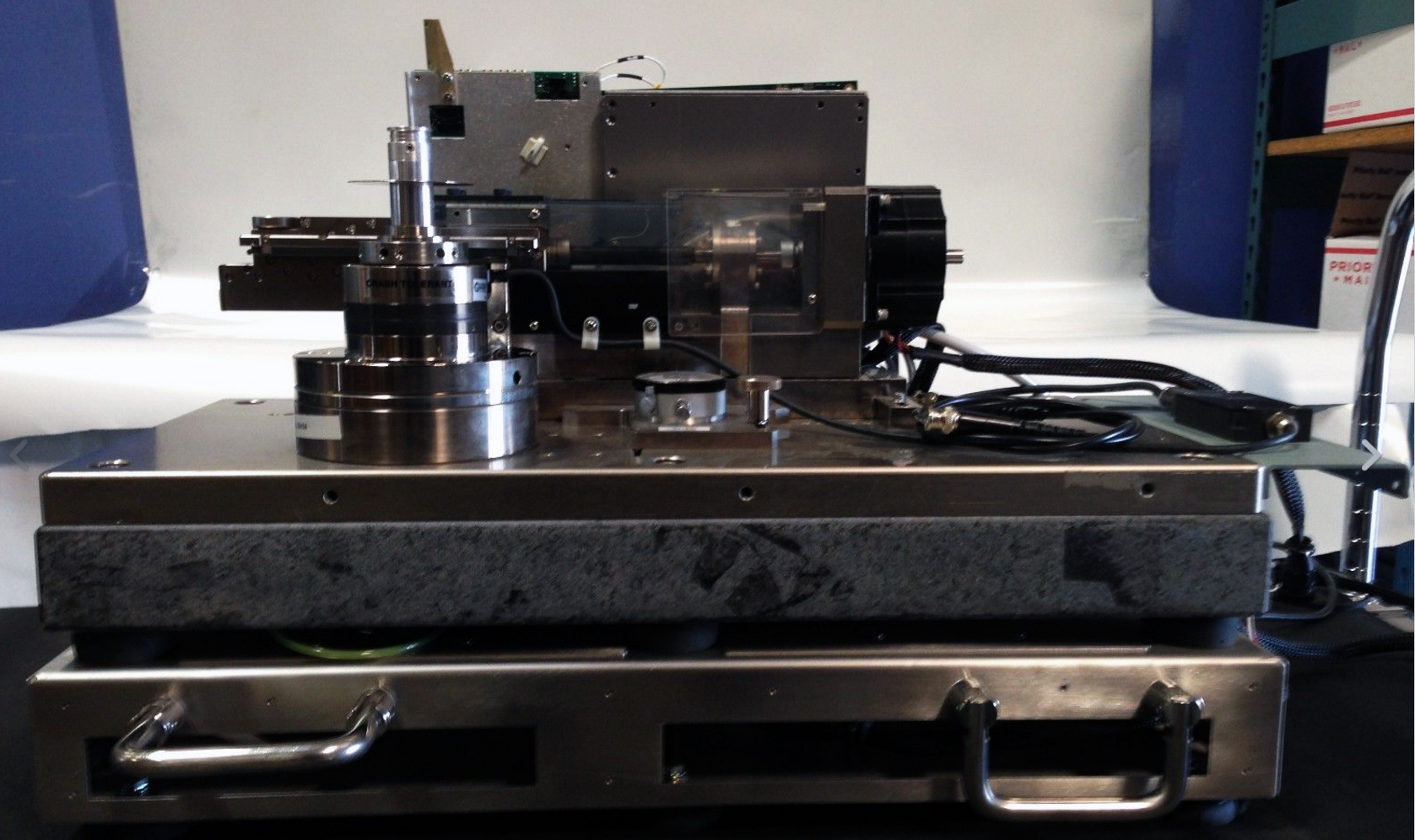 The GUZIK S-312MP Micro Positioning Universal Spinstand is equipped with a precision closed loop positioning system consisting of a piezo substage and optical scale with 0.08 µIn resolution. This results in track positioning repeatability of 1 µIn and track profile measurements with effectively zero hysteresis. This capability is a requirement in MR-Head testing and high TPI track profile and track interference analysis.
Through a patented linear simulation of rotary skew, the S-312MP's positioning mechanism allows simulation of a drive's rotary positioner. Any valid pair of skew angles from -7 degrees at the I.D. to +22 degrees at the O.D. can be easily configured, and step size is automatically varied as a function of track location, thereby accurately simulating a rotary actuator.
The S-312MP is designed to be a universal spinstand that is capable of double sided testing of all types of HGA's using optional head cartridges. As a disk tester it can test media as small as 1.3″ to as large as 5.25″, with available spindle chucks.
The S-312MP is controlled by command line or menu driven software from a PC via a serial interface. Combined with a Guzik RWA-1600-series RWA, and available Engineering and Production software packages, the S-312MP provides fast and accurate testing of leading-edge HGA and Disk components.
To protect prior user investments in Guzik spinstands, existing S-312 spinstands may be factory upgraded to S-312MP
Features:
Micro Positioning repeatability of 1 µ with 0.08 µ resolution.
All standard features of S-312 spinstand:
Linear simulation of Rotary Skew configurable from -7 to +22 degrees.
Universal Spinstand fully equipped for head testing or disk testing
Uses HGA's mounted in easy change adapters for top and bottom testing.
Step size automatically varied as a function of skew angle.
Uses 8 and 9 ball media clamps.
Dynamic or Static head loading at any radius.
Interchangeable "Z" height head cartridges.
Interchangeable spindle chucks.
Optical RPM encoder.
Programmable spindle speeds from 200 to 10000 RPM.
Powerful microprocessor based controller
Low electrical noise.
Low power requirements.
Small media clamp area.
Dynamically balanced spindle.
Optical "Disk On" sensor.
Small size, table top unit.
Protective safety cover available
Positioning Mechanism:
Linear Position Repeatability and Local Positioning Accuracy¹: ± 0.4 µIn typical, (within ± 400 µIn) ± 1 µIn maximum
Liner Positioning Repetability over the entire linear travel¹: ± 2 µIn typical
Absolute Positioning Accuracy over the entire linear travel¹,²: ± 8 µIn typical
Linear Scale Resolution: 0.08 µIn
Hysteresis: Closed loop system, no hysteresis.
Skew Angle Resolution: 1 minute of arc.
Repeatability and accuracy can be affected by temperature variations. Due to its low heat capacity, the disk exhibits the fastest response to these variations. Best performance will be achieved at stable environmental temperature, and after a warm-up period of approximately 1 hour.
Absolute accuracy over the entire range of travel is determined by the accuracy of the linear encoder.
Physical:
Size
24″ x 12″ x 18″
Weight
150 lb.
Power
110 vac ± 15% 50/60 Hz, 3 amps approximately
230 vac ± 15% 50/60 Hz, 2 amps approximately
Environmental:
Operational: 15 C to 40 C, 90% maximum relative humidity, with no condensation
Spindle:
Bearings: Air Bearing
Interchangeable Spindle Chucks: 1.3″, 1.8″, 2.5″, 3.5″, 5.25″ available
Motor: Brushless DC, programmable, 200 RPM – 10,000 RPM
RPM Jitter: ± 0.02% typical
Back to Top