Universal Preamplifier 10 (UP10) – Obsolete
Two independent write channels with  more than 8 Gbit/sec data speed
DC to 4 GHz read-channel bandwidth
Works with Guzik MR7 amplifier and commercial amplifiers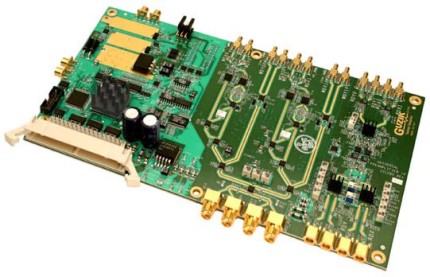 Universal Preamplifier 10 (UP10) is designed for high-speed operation with Guzik RWA 2000 series. UP10 allows the RWA2000 series to achieve the maximum data rate 4 Gbit/sec and beyond. UP10 will support the future generations of test equipment and head amplifiers with higher data rates.
Together with MR7 amplifier, UP10 provides the possibility to write high-frequency signals with programmable overshoot. The width and the amplitude of overshoot can be adjusted in order to keep the write current at the MR7 output between 0 mA and 100 mA. The overshoot width can be set within the range from 150 psec to 900 psec.
The bandwidth of read channel extends from DC to 4 GHz. Using UP10 together with the MR7 amplifier allows for reading the perpendicular recording signals without losing DC components.
Write Channel
More than 8 Gbit/sec data speed
Two independent write channels
40 psec rise/fall time of write data
Dedicated write data outputs for Guzik MR7 amplifier
Positive CML write data outputs for commercial head amplifiers
Read Channel
Bandwidth: DC to 4 GHz at –3 dB
Flatness ±0.2 dB up to 2 GHz
Group delay flatness ±50 psec 

up to 4 GHz
Nominal output level: 250 mV single ended, 50 Ohm termination
Typical Non-Linear Distortion: better than 1% at 2.5 GHz (250 mV output level)
Back to Top