General Purpose and Specialized Solutions
Digitizers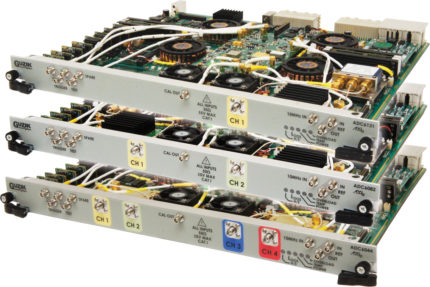 ADC 6000 Series AXIe-1 Digital Acquisition and Processing Modules combine Keysight Technologies 8-bit analog-to-digital converter technology (up to 40 GSa/s and 13 GHz analog bandwidth) with built-in digital signal processing hardware and high-speed data transfer link to a computer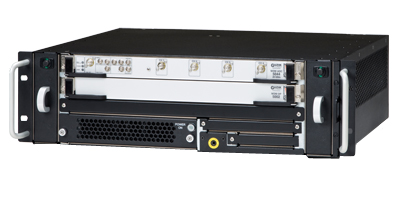 The Guzik WDM 5000 Waveform Digitizer Series provides high-speed waveform capture and analysis in a display-less rack-mounted format. In addition to disk drive head and media testing applications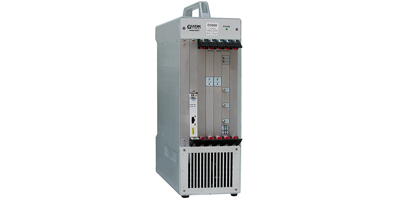 Guzik signal analyzer performs all measurements digitally. The known disadvantage of a digital system, compared to an analog one, is a low processing speed. In order to overcome this problem, the D5000 Signal Analyzer uses a high-speed Digital Data Processor with speeds up to 2.5 GSa/s (for parametric measurements).
FPGA Networking/Processing Cards
Guzik DP 7000 Digital Processor with Optics, designed for evolving markets such as Real-Time Stream Processing for High-speed Data-acquisition (DAQ), High Performance Computing (HPC), Data Centre Infrastructure, AI Processing and Network applications. The processor takes advantage of the latest Intel 20 nm FPGA-s. which are 2.5X more powerful than in previous Guzik generation devices, fast Optics and DDR4 memory technology.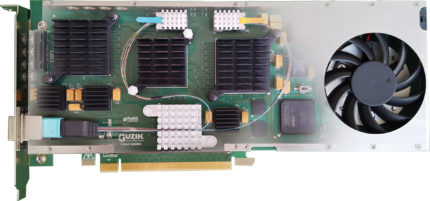 Guzik Fiber Optics to PCIe® bridge / FPGA Accelerator Card V2, enables evolving markets such as High-speed Data-acquisition, High Performance Computing and Networking to take advantage of the latest Optics and Hybrid Memory Cube technology.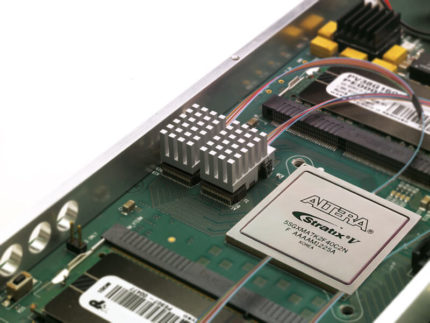 Guzik general purpose, fiber optics to PCIe® bridge card with built in FPGA processing and on-board memory buffer.
Accessories

Programmable integer clock divider is working with input signal frequencies up-to 14GHz and has static adjustment of the 1-256 division ratio through 8-bit front-panel dip-switches or via an optional rear-panel accessible mini-B USB connector. The low phase noise and jitter of the divider is critical for applications requiring precise synchronization between device clocks.